2019.03.13 Professor Frances Yang from Augusta University (USA) visited our department.

2019.03.11 Medical Laboratory Science and Biotechnology Associate Professor Liang-Yin Ke and Professor Etsuro Ito from Waseda University, and physicians from Changhua Christian Hospital had a research meeting on March 11. Dr. Chen: Establish a platform for rapiddiagnosis of important infectious diseases; Professor Etsuro Ito: progress report.

2019.03.04-03.08 Dr. Arunee Thitithanyanont from Mahidol University, Thailand has been invited by Dr. Sheng-Fan Wang, from Department of Medical Laboratory Science and Biotechnology, Kaohsiung Medical University, Taiwan to attend Kaohsiung Medical University to participate in international scholar co-teaching as well as discussing the dual degree program.

2019.03.04-03.06 Department of Physical Therapy, SF Hsiao invited Dr Hiroki Mani and Dr Yasuyuki Takamatsu from Hokkaido University Japan gave a speech for the 'Development of postural control' and 'Neural plasticity & neuromodulation' in the Department of Physical Therapy.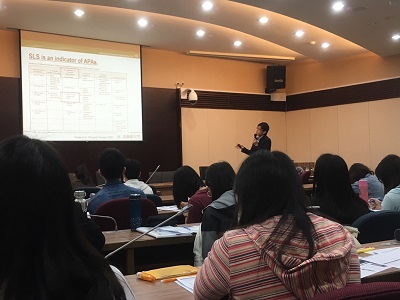 2019.02.26 Three graduate students, Amy Zhao, Lisa Le, & Nicha Thumwanit from USC Chan Division of Occupational Science and Occupational Therapy(USA) , participate our Inbound Visiting Program for two weeks.